Insights
by Andrew Matheny, Dallas Research Manager
April 21, 2022
---
Flexibility, Innovation (and a Bit of Patience)

For many months the national narrative has not been kind to the office sector. Images of empty urban districts and rosy assessments of remote work have made it challenging for companies to entice employees back to the office. Debates often take an all-or-nothing view of the value of the office, and this is a shortsighted perspective.v

Transwestern just held its annual National Recognition Conference, celebrating its best year in the company's 44-year history and achievements across every service line and product type. With a culture that emphasizes collaboration as a key element of success, Transwestern strongly believes that growing and equipping young talent requires personal interaction with seasoned professionals. Our own track record supports the notion that breakthrough ideas come to life when people spend time together, sharing both their personal and professional experience.



EMBRACING HUMAN NATURE


Consider why people create cities in the first place. Humanity's best ideas are the result of synthesizing individual lived experiences into a solution that none of us could achieve or implement on our own. Human interaction serves to create value for ourselves and society at large. In this respect, "the Office" exists as a facilitator of these interactions.



Human interaction serves to create value for ourselves and society at large.



We are encouraged that companies are taking steps to infuse innovation and creativity into their operations, returning the Office to its core purpose. That said, not every city is on the same trajectory when it comes to economic recovery, and flexibility is most certainly the name of the game for companies recruiting and retaining talent. So too must office operators and investors become more flexible in their way of doing business.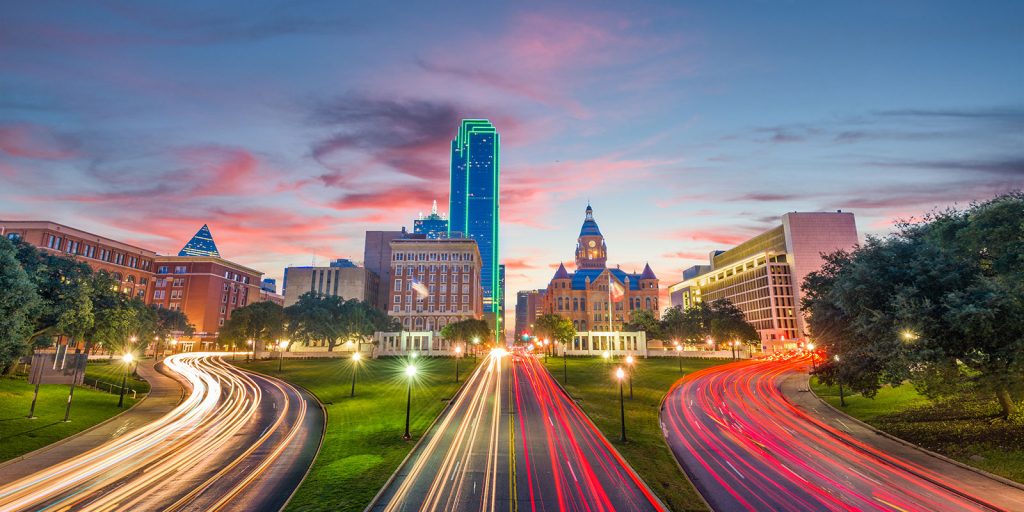 DALLAS DEFIES THE NARRATIVE
Dallas experienced similar impacts from the pandemic as other markets but recovered faster and is creating jobs at an above-average pace. Office fundamentals began recovering in mid-2021, leading Dallas to rank as a top market for international investors. This is not simply another example of a Sunbelt market outperforming. Furthermore, to be clear, it is not a political Red versus Blue story. Higher transaction volumes in Dallas have revealed themes underpinning attitudes and behaviors that may be beneficial for other markets to consider.
Flight to quality is key.
This isn't a new trend, but it has accelerated and achieved deeper penetration in the market – even value-oriented tenants are reevaluating the quality of their Class B space to attract employees back to the office. The bottom line is that there will continue to be demand for new construction even if market vacancy rates rise. In Dallas, this trend is leading urban buildings to lease up in record time.


Office footprints will recover.
Companies were shrinking office footprints before the pandemic by decreasing the amount of space per employee, and some argue that remote work will only further reduce footprints. But what if companies provide more space to attract employees back to the office? In Dallas, the desire to create a highly amenitized experience for employees results in no change to footprints or even growth once future hiring is incorporated into space plans. Similar dynamics could play out in gateway markets with denser floorplans even if a higher share of employees work from home.

Consider the following example: A company houses 1,000 employees in a 120,000-square-foot office (120 square feet per employee). If 20% of employees work from home, 800 remain and the footprint shrinks to 96,000 square feet. But if the company reconfigures space plans to provide 140 square feet per employee, the footprint reaches 112,000 square feet, shrinking less than half of one floor. Factor in future job growth and select office investors might experience declining vacancy rates in the future.
Long-term leases matter in an inflationary environment.
Companies continue signing long-term leases, offsetting increasing space costs with better concession packages. In Dallas, average lease terms remain above seven years. Tenants are paying higher effective rents but receive higher tenant improvement allowances to build the kind of space that attracts talent.



Partial conversions are the future.
A number of Dallas office buildings are adding different uses. While some office buildings will completely convert to other uses, we believe partial conversions will become more common and create an attractive mixed-use experience for office, residential, and hospitality users.


HISTORY DOESN'T REPEAT BUT OFTEN RHYMES

In the 1980s, growth from migration, a booming energy sector, and favorable tax treatment for new development led to an unprecedented volume of office construction in Dallas and Houston. Between 1982 and 1988, Dallas office inventory increased over 100%. The real estate boom ended with the Oil Bust, decimating the energy sector and local financial institutions.
The market experienced even more shocks following the Savings and Loan Crisis and the 1991 Recession. Office vacancies rose to nearly 30% as deliveries came to market, and it took a decade for Dallas vacancy rates to return to anything resembling an equilibrium.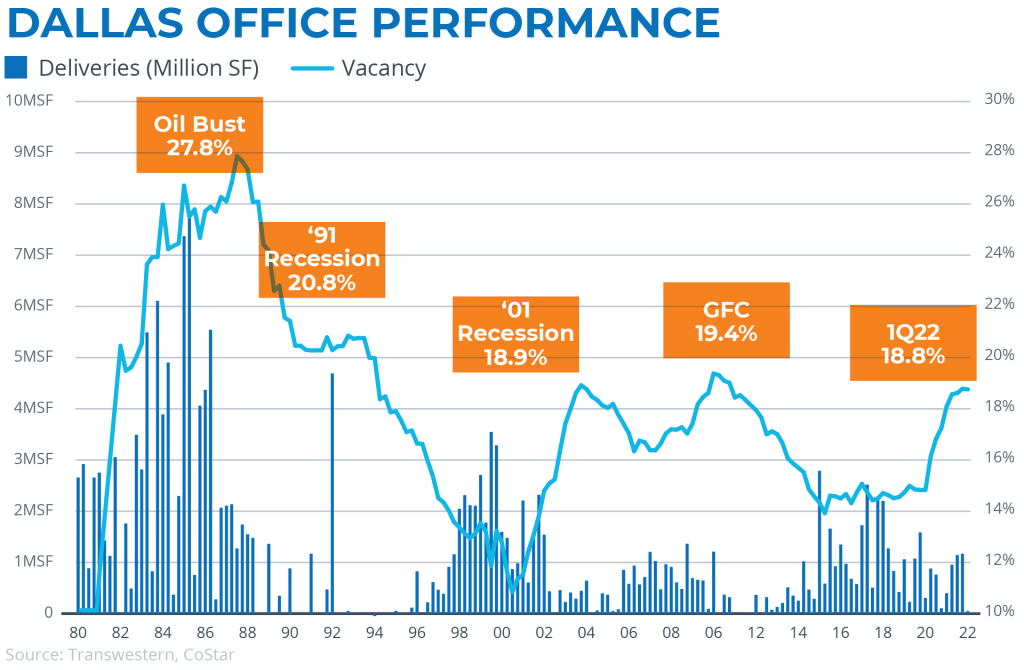 The reality check of the 80s taught Texas – and the country – many lessons. We looked beyond technical analysis, as overbuilding in Dallas and other cities permanently increased the market's equilibrium vacancy rate and broke traditional correlations between job growth, occupancy and rent growth.
Quality is the key to office performance when there is more supply than the market can absorb.

We focused on niches and sets of properties the market deemed competitive. We learned that inherent attributes were key to creating an experience that attracted demand – ultimately determining which properties were successful and which properties struggled. Simply stated, quality is the key to office performance when there is more supply than the market can absorb.

While the circumstances are different today, we see parallels between past and present. The most obvious is how the pandemic created a shock to office demand. There has also been a rapid change in the relative balance of supply and demand, both in Texas and gateway markets. From this vantage point, we see two different but equally important influences on the future of office: (1) How office users adapt to the post-pandemic norm, and (2) how the thinking of office investors and other stakeholders adapt to these new realities.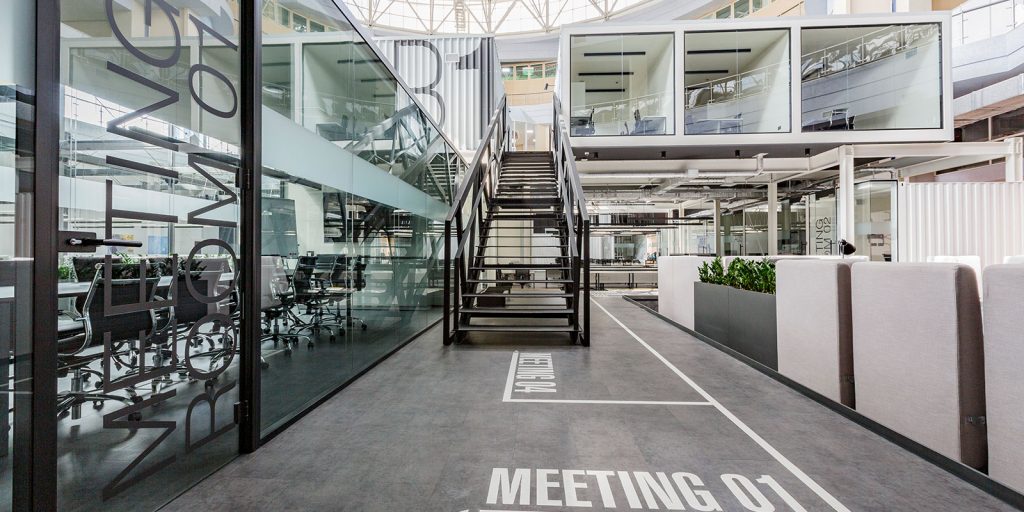 Part 1 will be written over the next decade as companies sign new leases and adapt their spaces to accommodate new work patterns. However, Part 2—how we think about office space—is arguably more pressing and something we should be focused on now. Real estate decisions that follow the old paradigm likely won't succeed in the so-called "new normal." Equally important to note, office investments may still present outstanding opportunities to create value and deliver superior returns for stakeholders.

Flexibility and innovation must define our thinking about real estate so that it continues to deliver the greatest value to all constituents. As CEO Larry Heard shared with the Transwestern team, despite the challenges of the past two years, complacency is not an option.