Insights
Pressure Mounts for Greater Efficiency
June 29, 2022
---
In May, the California Water Resources Control Board passed a measure requiring agencies to implement contingency plans for up to a 20% shortage in water supplies. It is yet to be determined what effect this will have on commercial real estate in California, but the move caught the attention of property owners across the U.S., especially in regions where droughts are prompting calls for more stringent water conservation.
At the same time, water usage costs are rising and are projected to double or even triple in many areas over the next decade. Forecasts for water usage can alter real estate planning, such as in Phoenix, where developers hoping to make the area the next data center mecca are seeing pushback for large projects.
As water conservation takes a more prominent role in commercial real estate discussions, the industry could see larger investments in water efficiency and changes to leasing in coming years as property owners strive to meet more stringent environmental, social and governance (ESG) goals, stricter regulatory requirements and tenant expectations.
An Environment Ripe for Innovation
Adding water-saving measures to commercial properties is especially appealing for assets greater than 500,000 square feet in downtown or core areas, where water usage is already substantial. By reducing consumption and utilizing alternative water sources, properties become less vulnerable to fluctuations in water supply and pricing and secure a competitive advantage in the market when it comes to attracting and retaining tenants.
The insight gleaned from smart building technologies is valuable in weighing future investments in water efficiency
The three biggest uses of water in commercial office properties are HVAC, restrooms and irrigation, while process water and steam dominate water use in data centers, life science buildings and manufacturing. Basic water-saving mechanisms, such as leak detection, pipe insulation and low-flow fixtures, can be cost-effective and promise a sizable payback depending on the building and the scale of the installation.
In recent years, the expansion and increased sophistication of proptech has fueled adoption of Internet of Things (IoT) solutions – both for new construction and for value-add improvements. Connected devices such as smart faucets and flushometers can provide component status alerts, performance data and timing controls. Notably, the insights gleaned from smart building technologies is valuable in weighing future investments in water efficiency, and helps to insulate properties from higher water costs, strains on supply and the potential of increased regulations around usage.
Installing a rainwater collection pond, for example, can save thousands of dollars annually. Retention pond water can be used to supplement cooling towers, irrigation or other non-potable uses in most properties and costs less than water storage tanks. Reclaimed water helps to offset the use of utility-supplied water, saving dollars on both consumption and discharge.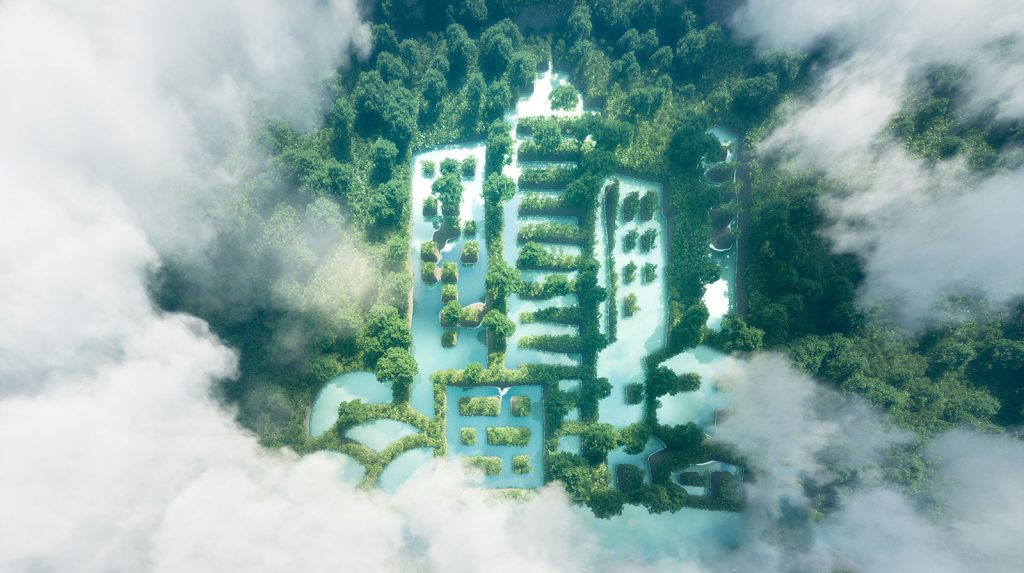 Similarly, enhancing operational processes, such as upgrading steam sterilizers, can save costs long-term, and properties may even be eligible for a utility grant. The payback can be significant for large healthcare properties and campuses, where the storage, heating and movement of water is central to operations and wellness. More importantly, proactive water conservation solutions build resilience in an asset, establishing a self-sufficiency that guards against potential disruption to the water supply.
These types of approaches are highly customized to the individual asset yet could be worth exploring considering new economic and environmental realities. With industry experts paying just as much attention to water usage today as they have historically paid to electricity and waste, we expect a rise in case studies over the next few years demonstrating how better management of this natural resource can dramatically improve building operations. Programs such as BOMA's Water and Waste Challenge showcase best practices and keep the topic at the forefront of ESG efforts.
Tenants Take a Greater Interest
Commercial real estate users understandably gravitate to areas offering the greatest potential savings when it comes to their lease, and that remains energy usage. However, as water and sewage costs rise over time, water conservation will become more meaningful and measurable. In the future, tenants may even request itemized water usage and associated costs in landlords' utility billing.
"Green leases" designed to align owner and tenant financial and sustainability goals are becoming more common

Water is unlike energy in that users cannot go to market for competitive pricing – the resource must come through a utility provider. But this has not deterred tenants and operators from making their interests clear. "Green leases" designed to align owner and tenant financial and sustainability goals are becoming more common across the industry.
A green lease may require the tenant to use resource-saving methods when updating or operating their space; for example, installing cost-saving water fixtures that are 30% more efficient than the calculated baseline for the building, or establishing temperature guidelines that aim for both tenant comfort and HVAC efficiency.
While we estimate that less than 10% of new leases today are green leases, we expect to see more interest as the focus on water conservation intensifies in coming years. BOMA's Green Lease Guide provides excellent guidance regarding the operational, managerial and legal implications of such a lease.